(AAMS V3.7 Rev 003 was released on 06 Januari 2018!)
Main Link - Download AAMS V3.7 Rev 003
Download directly from our Site AAMS V3.7 Rev 003
Information about the AAMS Software fo Windows Free Installer Package.
AAMS Auto Audio Mastering System V3 - Is installed as standard Freeware Limited Version, Upgradable with a high encouragement that the user Registers for AAMS V3 Full Version License. Professional options are not available in the AAMS V3 Limited Freeware Version, but you can master as many tracks as you like...all free of charge. Where mastering of a single track is done by AAMS V3 automatic functions with a few easy clicks. The end result will be a fully mastered track. Be sure te read the license info inside the AAMS software or on our website.
Now you can listen what you expect!
Read about AAMS Version Revisions

Register for the AAMS V3 Full Version.
The AAMS software is freeware, with an encouragement that the user makes a registration to the Full Registered Version.
You can show your support and appreciation for AAMS and future development by registering.
To make full use of the AAMS Software Package by Registration, use the Registration page.
You can also use the AAMS Contact Page and ask for an invoice, be sure to add your own email adres.
Without any blocking of professional options, a registered and licensed user can make use of all AAMS V3 Functions!
Keycode Instructions :

Follow these instructions and Send us your Registration for a License!
You need to download AAMS (www.curioza.com) from the download page.
Then open the 'AAMS.zip' file and start 'AAMS V3 Setup.exe'.
When AAMS is fully installed, start AAMS.
Goto the - About - tab inside AAMS software to register.

(1) Fill in your username (example 'Denis van der Velde') and Copy your Username and (2) Copy the Installcode.
Send your Username (1) and Installcode (2) back to This email address is being protected from spambots. You need JavaScript enabled to view it.
We will respond to your registration and payment by email with the corresponding keycode.
You have your username and installcode and you recieved the Keycode ?
Open AAMS Software, Fill in your username (1), for instance 'Denis van der Velde'  (Example use your own Username instead).
Fill in the Keycode (3) we have send you, for instance ' AAMS-XX-XX-XXX' (Example use your own Keycode instead).
Use the ' Registration' (4) button in the AAMS software About tab and follow instructions.
You are now a Registered and Full Professional AAMS user!
When you need a Keycode or need to send Username and Installcode, fill in the contact form.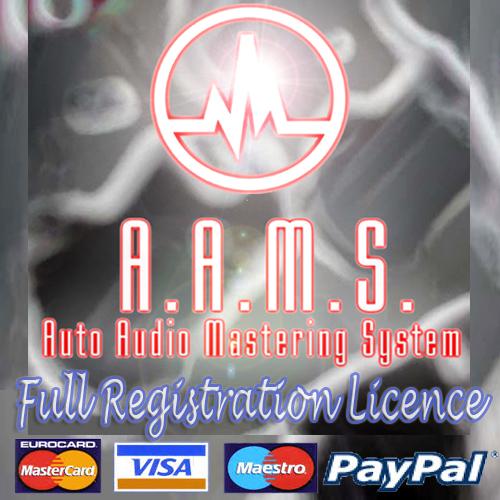 AAMS V3 - Registration Buy Now!
then use our Contact Form for a keycode!